"My job never really turns off, because I'm always thinking about the strategy and how we're going to improve our processes," he says. "I even learn from things I do with my family and how it can potentially be applied to how we go about our work and team management and so forth."
Ben says a typical weekday will see him wake at 6.30am, check his work emails and messages, and then get the children fed and off to school before returning home.
"We're fully committed to hybrid work with team members spread across Australia. We've been almost entirely remote during Covid, but I'm really excited to spend a bit more time in the new office and start hosting events there," he says.
His mornings are spent checking in with his venture and platform teams via online meetings, and organising activities, interviews etc, for the day.
"We operate like a standard software engineering team and adapt process to R&D and delivery activities," he says. "We have three venture teams working on different projects for our ventures. Two of the teams work inside the annalise.ai venture doing radiology. The third team is working inside the franklin.ai venture doing pathology."
Ben says his venture AI teams have three main responsibilities: The first and most crucial being model development for machine learning.
"It's the core technology at the centre of the product," he says.
The second responsibility is delivering the technology into a system and a final product. While the third responsibility revolves around validation.
"In a lot of machine learning roles, you'd be more focused on tracking internal metrics of how the model is doing," says Ben. "But what we do that's really cool and exciting is collaborate with the clinical research team in the venture to do validation of the utility for clinical users of impact on their workflow."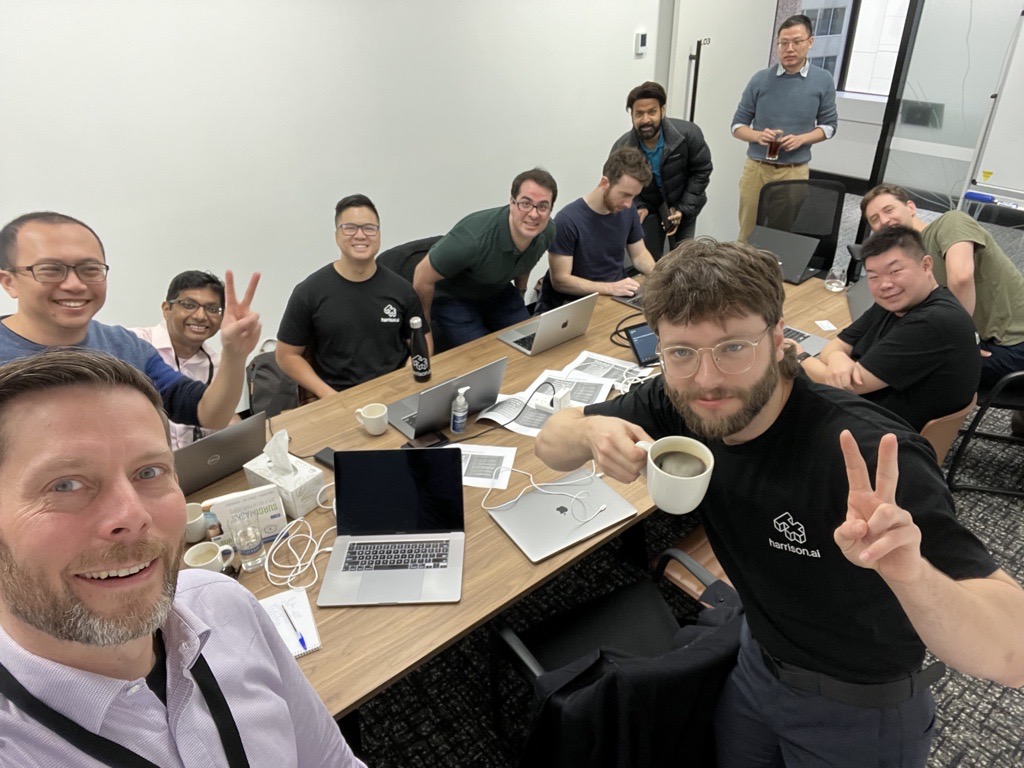 Ben's day involves a lot of interacting and collaborating across numerous elements of harrison.ai and the ventures. Such as the clinicians.
"There are in fact several clinical roles within harrison.ai," Ben says. "One is clinical research; they 'own' the validation to show that whatever is being built by my teams is in fact useful. There is also a clinical lead who aligns with product and helps to drive the strategy around product. And finally, there is the clinical AI specialists; practising clinicians who also know about machine learning. I coordinate a lot of the interaction with these three different teams to drive strategy around model development."
Ben says he also liaises with the product team responsible for medical device development.
"We have a product team inside annalise.ai and franklin.ai who have deep background and expertise in bringing medical device solutions to market," he says. "My interaction with the product team is around framing what the model should look like and how that fits into the development of new products.
"I also interact a lot with the engineering teams. For us in Applied AI, it's really about delivering a model into product. This includes working with the venture engineering teams on service architecture, interfaces, and production support. It also includes working with the systems, regulatory and quality assurance teams on traceability and documentation. We need to be across everything."
The platform team in harrison.ai is a new effort this year. Ben says he is super excited to be building this dedicated team, which is developing tooling to streamline development of AI-as-a-medical-device solutions and standardise training, evaluation, and operation of machine learning models.
By 5pm, Ben is ready to rush out and pick his children up from school. The children are 10 and 7 so the crazy 'parent-taxi' is doing lots of miles. Together the kids are currently involved in band, chess, Scouts, coding, soccer, rock climbing and Mandarin.
"The ability to work from both from the office and from home has given me quality time with my kids," he says. "The work life balance is super important to harrison.ai.
"In the evening I'm able to focus on the family. Sure, I enjoy an occasional little bit of productivity time after the kids go to bed, but most nights my partner and I sit down for a bit of Netflix and a chat."