"Lungs Matter" shares the latest news and trends that are impacting patient outcomes, and is a product of a partnership between the British Thoracic Society and ITN Business. 
Annalise.ai & its pioneering technology featured in their recent segment focused on the impact of external factors such as pollution and healthcare inequalities on respiratory health and the significant pressures being experienced across the NHS.
Watch full video here:
How Health Inequalities Impact Patient Outcomes
The segment raises questions about how current pressures on the NHS are impacting patient outcomes, with those patients who have access to quick diagnosis receiving better outcomes overall. 
Disparities in technology, staff availability and resources mean that different NHS facilities can produce dramatically different patient outcomes up and down the country, despite every hospital and surgery being state funded.
Pressures on the NHS mean that not everyone gets the same access to quality healthcare, and diagnosing and prioritising patients in order of need can be a challenge.
As the Clinical Lead of Innovation, Andy Keen, shares,
"Our big challenge really is identifying the people who need the quickest help, and have the most serious conditions and it's very difficult for us to do that at the moment. Products like Annalise.ai and other AI products help us prioritise and risk stratify".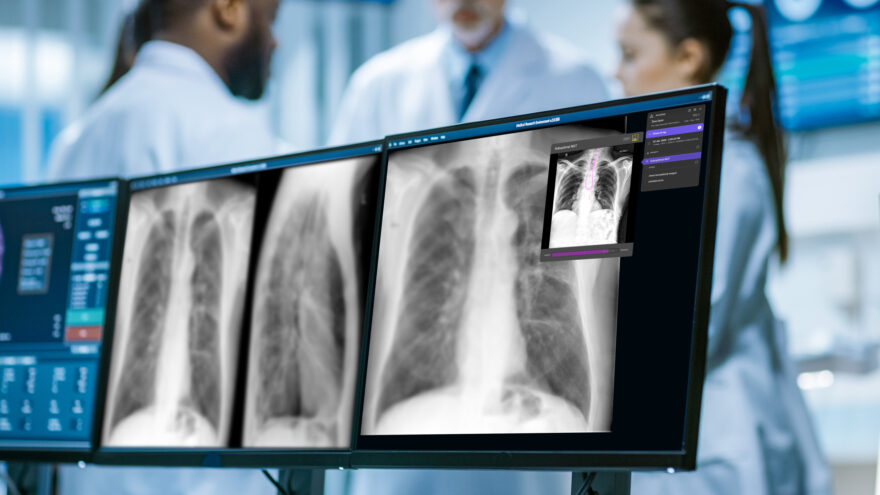 How Will Annalise.ai Help the NHS?
Finding innovative ways to diagnose and treat patients is front and centre of the NHS's strategy to improve disease detection and democratise UK healthcare. 
Annalise.ai is working with the NHS to implement their AI tool for medical imaging which will assist radiologists in diagnosing conditions. The technology provides a second set of digital eyes, which can analyse chest X-rays for over 100 findings within seconds of being taken. 
Dr Lizzie Barclay Associate Medical Director of Annalise.ai explains,
"There's a big drive from NHS Scotland [and] NHS England and elsewhere to really improve detecting lung cancers early because the earlier you can detect them, the better the prognosis is."
"If we can detect lung cancer, or potential lung cancer while they're still in the hospital, instead of having to travel back and forth, we can get them onto a CT scanner. And that way your time to diagnosis is so much quicker, and you're likely to be picking up these cancers at a much, much earlier stage."

Very Positive Initial Results
In just 3 days of being trialled at NHS Grampian, the Annalise technology had already found its first anomaly on a chest X-ray. This find led to the early diagnosis of lung cancer in a patient whose cancer would have otherwise gone undetected.
As Dr Struan Wilkie, Lead Consultant Radiologist at NHS Grampian explains,
"One of my colleagues was reporting, and he initially was saying that the Chest X-ray appeared normal. He came round to me and he said actually Annalise has flagged it up as a potential mass. I re-looked at it and he's re-reported it. The patient had a CT scan two days later which confirmed lung cancer".
With continued use of the Annalise software, we're excited to see the positive impact it will have on radiologists' workflow & patient outcomes.
You can find out more about Annalise AI-powered radiology solutions or subscribe below to stay up to date with the news & events from the world of Harrison.ai.