"How can companies have impact on the world? And how can they think about that [challenge] in new, unexpected ways?" Moderator and Blackbird Head of Impact and Operating Principal Kate Glazerbrook said in her opener, giving way to four names associated with making big ripples: 
Flavia Nardini (CEO and co-founder at Fleet Space)

Leah Kaplan (APAC Solution Lead, Geospatial Analytics, and Sustainability Champion at Google Cloud)

Alex Birch (CEO and co-founder of XY Sense)

And our own CEO and co-founder, Dr. Aengus Tran
Watch the full Uncommon Impact session above, or check out our run down of the 3 key takeaways on how Harrison and other companies on the stage approach the art making an impact. 
1. Impact and scalability are intertwined
For Dr. Tran, who grew up in Ho Chi Minh City and received medical training at UNSW within Australia's world-leading health system, the path to making a viable impact is obvious. Making systems and in-demand skillsets scalable, he says, provides immediate impact by giving greater (measurable) numbers of people access to quality of health improvements that are almost impossible to quantify. 
"Appointments are available on the circadian rhythm—doctors must sleep," Dr. Tran said, adding that in general, health systems are "not very flexible" and "fragile" due in large part to scalability and skill-access issues. "If tomorrow we need to X-ray ten times more patients, that doesn't mean there are ten times more radiologists available to see them." 
For us at Harrison.ai, then, the challenge is to take invaluable skills such as radiology and enhance them with the power of data & machine learning so health systems are able to provide them at scale. That's a substantial impact by definition—and the reason we want to touch one million patients' lives daily by 2025. 
2. Alignment creates impact 
Making an impact is easier for Harrison because we built making an impact into our basic business model, Dr. Tran continued. As opposed to the two-step process of "make a lot of money, then make an impact" some businesses follow, he said, this enables Harrison to avoid conflict between those two basic business needs from the start. 
It was a common theme in the talk, and one most every speaker brought up in some format or another. For example, Alex Birch, the cofounder of XY Sense, spoke about his company's ability to impact the world by helping clients make incremental changes—which add up—to energy consumption patterns.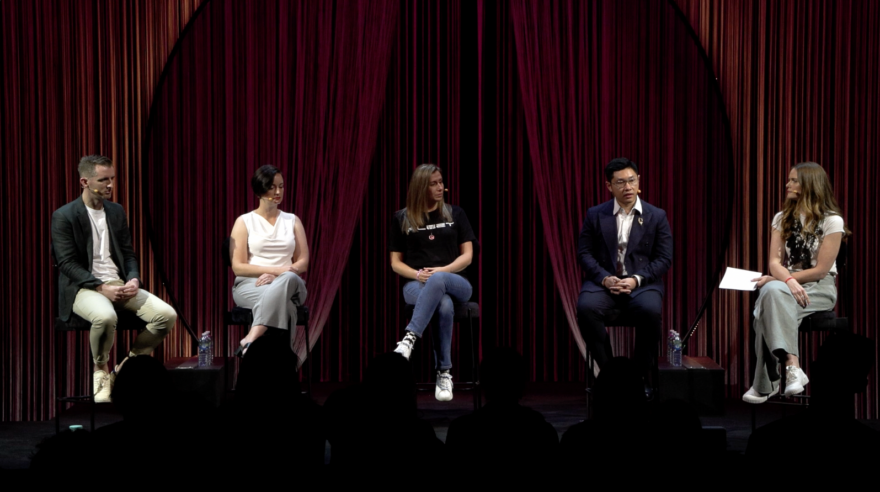 3. Impact is in us all
Space has always been in Flavia Nardini's soul, the CEO and cofounder at Fleet Space said. And this experience informs her opinion that everything that happens—from global disasters to the response people render to them—is ultimately connected. Because of that, she says, even small changes to major global problems can have a resounding impact. 
It's much the same story at Harrison, where—instead of space—we offer "small" changes that potentially mean the entire world to patients and healthcare providers on the other end. 
Be sure to check the whole video more insightful content from these trailblazers achieving positive impact in their businesses. And sign up below to stay up to date with the latest news and events from the world of Harrison.ai.