When Harrison.ai Head of Finance Jeremy Cheng returned home from the hospital with his new baby Penelope and wife Judy, he couldn't have been a happier parent. Or more relaxed.
"I felt a certain calmness, knowing I could be mindfully present during those first, very important days," he says.
Jeremy's time with his young family was made possible by Harrison.ai's industry-leading Becoming a Parent program. The program promotes gender-equality by recognising the vital role that dads play in supporting their partner and their children when a new baby comes home. This meant that during his partner's pregnancy, Jeremy was able to access $1,000 in ultrasound reimbursement then take up to 16 weeks paid parental leave.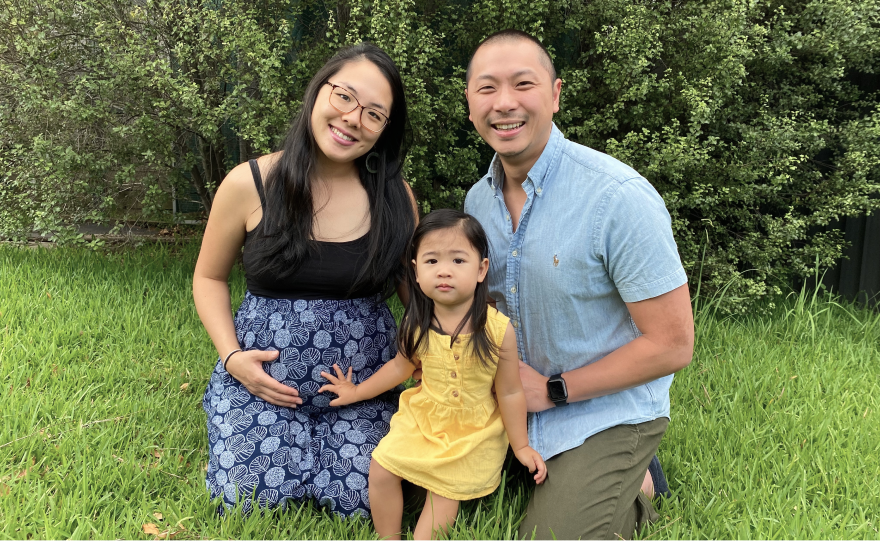 Jeremy says the program gave him and his wife peace of mind at a time when many fathers are having to rush back to work.
"I initially took two weeks off. That allowed me to not only take time off as a primary carer, but as a secondary carer to support my wife with a newborn, as well as my other daughter, Charlotte. It was comforting to know that I was being supported by Harrison.ai. In fact, the company went above and beyond by enlisting someone to fill my role while I was away, meaning I didn't have to return to a backlog of work."
Now that Penelope is almost three-months old, Jeremy's wife is planning to return to her important role as a gastroenterologist, while he takes six weeks paid parental leave to support his wife's transition and spend more time with his two young daughters.
"The program is incredible," says Jeremy. "It's something I never thought I'd be able to access in a job, and definitely something I haven't heard of being implemented across the market like this. When I speak with my friends about it, they are astounded. Not only about the extended parental leave but also the other elements of the program."
These elements include financial support of up to $10,000 to employees for egg and sperm collection, plus IVF treatment. It also provides for grandparents and school-readiness leave, while the 16 weeks paid parental leave is equally available for parents who foster or adopt a child, and for the tragic instances when a pregnancy is lost.
Jeremy says the school-readiness leave means when his daughter Charlotte makes the move to primary school in a couple of years, he'll be able to take some time off to get her prepared for 'big school', and be there for her first day at kindergarten.
"This new policy is definitely a 'talent attracter', helping us to entice the very best talent out there in the market. It's a gamechanger."
If you'd like to hear more about our 'Becoming a Parent' program & employee benefits, head on over to our culture page.